Your connection to
alternative investing
Earn passive income, up to 8.5% in our real estate Short Notes
Start Investing
High yield, short term, real estate investments for everyone
Invest in real estate development projects with zero overhead and no account fees through Short Notes. Earn high-yielding monthly passive income with investments starting as low as $1,000 and commitments as short as 6 months.
Short Terms
Our Short Note term durations are 6, 12, and 24 months, so you have a defined exit date.
Monthly Cash Flow
Receive monthly interest payments so you can yield steady and predictable monthly income.
Low Minimum
Minimum investment is $1000, creating high-yield opportunities for everyone.
Zero Overhead
With no account fees, 100% of all interest is realized as a gain for investors.
Our Short Note term durations are 6, 12, and 24 months, so you have a defined exit date.
Learn how it works
Connect Invest process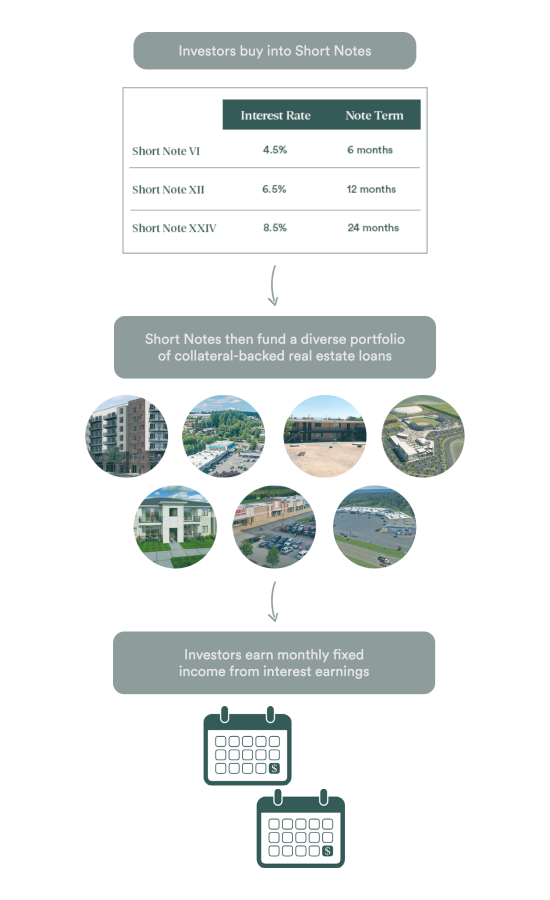 Our real estate Short Notes network
Powered by our preferred lender, Ignite Funding - Connect Invest's Short Notes help fund a variety of Ignite Funding's real estate projects throughout the country. Below are some of Ignite Funding's statistics.
$93 M
Income Paid Out to Investors
Our Short Note real estate development projects
Project Phase
Acquisition
Approximately 2-acre parcel of land which is currently zoned B-2. It is the intent of the borrower to get final approval for an eight building, 32-unit, residential development.
Project Phase
Acquisition
5.03 acres of residential zoned land in the NW part of Las Vegas, NV. Once the land development is completed, the borrower intends to build single family homes on the lots averaging 5,000 square feet.
Project Phase
Construction
1.12-acre piece of land is located near Centennial Parkway and Durango Drive. Building permits will be issued for the borrower to start construction of an 8,555 square foot two-tenant retail center.
Getting Started
1
Create your account to become an investor.
Available to anyone, including non-accredited investors
2
Browse our investment listings to select the right Real Estate Short Note for you.
We provide diverse projects funded by our Notes to maximize your investment opportunities
3
Access your secure dashboard to monitor your investment performance.
Our convenient online platform makes it easier for you to review your investment earnings
Create account